Dangerous Habits

John Constantine, and those who knew him, always thought that his death would be a unique one but when he's diagnosed as having lung cancer at a very advanced stage it appears as if his trade mark Silk Cuts will be the death of him. Desperate to find a cure, John visits an old friend (and fellow mage) in Ireland - Brendan Finn.

John's hopes are dashed however when he learns that not only can Brendan not help him but that Brendan's also dying and that he was hoping that John could help him. The two get drunk together and the pair share one final drink as Brendan passes away. As John leaves, he has his first meeting with the First Of The Fallen, who's come to collect Brendan's soul. The First recognises John and passes a snide comment on the faith of Constantine's father. Annoyed and determined to save his friend's soul, as well as being just a little drunk, John tricks the First into drinking holy water.

Growing more and more desperate, John seeks to enlist Ellie's aid in a search for a cure. Ellie, a demoness of hell reveals that the First is furious with John and that upon Constantine's death, his soul will be claimed by hell and tormented as none before it. Realising that he now simply cannot afford to die, John seeks aid from The Snob (the Angel Gabriel) - again he is rebuked, Gabriel feels that because John has broken the Ten Commandments, he deserves to go to hell.

Realising that, as always, the only one he can rely upon is himself, John sets about saving his life. Constantine sells his soul to the other two lords of hell. Each thinks he is the only one to have 'bought' Johns soul. As John dies, the First Of The Fallen arrives on the scene, determined to taunt John during his dying minutes. The First is shocked when the other two lords show up to claim John's soul - the three lords are faced with a terrifying situation. If Constantine dies then they will be forced to go to war for his soul. Unwilling to risk all out war, the three decide to heal John of his cancer - once this healing is complete, John flips the First Of The Fallen the finger.

As John mourns the death of Matt, an old man he befriended during a visit to a cancer ward, he has a chance meeting with Kit - Brendan's old girlfriend.

Timeline

1991 : John Contantine is diagnosed as having lung cancer. John manages to trick the three lords of hell into curing him. As a result of his trickery, all three lords now have claim to John's soul - in the event of his death, the three will be forced to wage war on each other.

1994 : Out to get Constantine for tricking him into drinking holy water, the First Of The Fallen learns that he is the one true lord of hell. Armed with this knowledge, he kills the two false lords and sets about getting his revenge on the magus.

Dates taken from Vertigo Secret Files : Hellblazer, written by Michael Bonner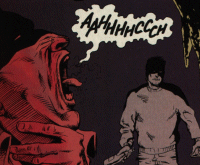 Constantine poisons the First Of The Fallen with holy water.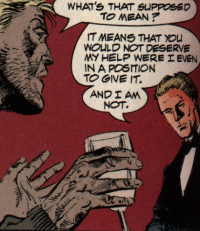 No help from The Snob.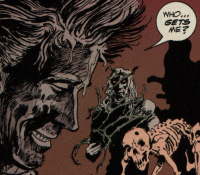 John confronts the three lords of hell..