Name : Cheryl Masters

First Appearance : Hellblazer #4, Waiting For The Man
Last Appearance : Hellblazer #176, High On Life (Part 2 of 2)

Who is she ?

Cheryl Masters, John Constantine's only sibling, was born seven years before her younger brother. The pair shared the usual big sister/little brother love/hate relationship but the death of their mother during John's birth added an extra dimension to their childhood. In between bouts of sibling rivalry, Cheryl often found herself assuming a maternal role for her little brother, going so far as to shield him from some of their father's less than savoury habits (one example of which being an incident that occurred in 1961 when Thomas was arrested for stealing women's underwear off washing lines which led to the pair having to stay with their aunt and uncle. Cheryl knew the reasons for their stay away from home, John was under the impression that his father was "away working on rockets at Cape Carnival").

One of the few Constantines to have shunned any involvement with magic, Cheryl married Tony Masters, a nice if horribly dull and somewhat weak willed man. Cheryl gave birth to the couple's only child, Gemma, in 1978. Disaster struck in 1987 when an out of work Tony joined the Resurrection Crusade (a religious cult aligned with the forces of heaven) and moved his family down to Liverpool. It was shortly after this move that Gemma was kidnapped and very nearly killed by a creature of the Damnation Army (mortal enemies of the Resurrection Crusade, aligned with hell) . Only the timely intervention of John and Zed saved the young girl from a horrible death.

After John himself destroyed the Resurrection Crusade, Tony became addicted to tranquillisers and now spends most of his time in a heavily sedated state. Cheryl is aware of her little brother's shady lifestyle and whilst she doesn't approve of it, she does share a strong bond with Constantine and serves as an important emotional touchstone for the magus.

John, recently returned from a long stint in America, received a frosty reception from his sister when he showed up unannounced on her doorstep. Cheryl had been led to believe that her brother was eighteen months dead and was angry with him for involving her in what she perceived to be another one of his infamous schemes. Living in a tower block dripping with magically induced bad vibes, and with her daughter now living in France, Cheryl has become hooked on tranquillizers and taken to drinking during the day.

Before confronting the person behind the bad mojo that haunts the flat complex in which his sister lives, John bids his sister farewell.


Other Appearances In Hellblazer :

(#13) On The Beach
(#28) Thicker Than Water
(#31) Mourning Of The Magician
(#35) Dead-Boy's Heart
(#44) My Way
(#62) End Of The Line
(#77) And The Crowd Goes Wild
(#100) Sins Of The Father
(#175) High On Life (Part 1 of 2)
A Distraught Cheryl seeks some comfort from her brother.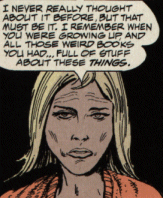 Cheryl reminisces on John's less than normal childhood habits.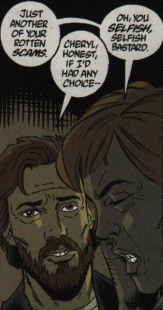 Cheryl welcomes her brother back from the dead. Again.