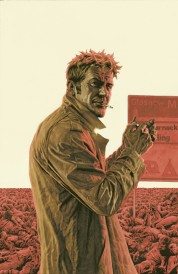 September 2006 Solicitations

Hellblazer #224

(Click cover image for larger version)

(W) Denise Mina
(A) Leonardo Manco
(Cover) Lee Bermejo

Part 1 of the 5-part story "The Red Right Hand," written by novelist Denise Mina. Steve Evans' dream of universal empathy proves to be hell on Earth for Glasgow, where he finds there's far more pain to go around than he'd ever imagined. Glaswegians are tearing each other apart, and now Evans needs John Constantine's help to stop the carnage. Too bad he just buried Constantine alive.

Note: intended for mature readers.

---
<<< Back To Solicitations Index