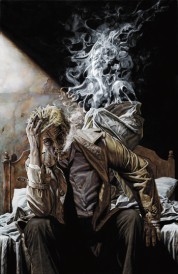 October 2006 Solicitations

Hellblazer #225

(Click cover image for larger version)

(W) Denise Mina
(A) Leonardo Manco
(Cover) Lee Bermejo

Part 2 of Denise Mina's 5-part "The Red Right Hand." Constantine finds that reunions with old friends aren't all they're cracked up to be. But his new friends only lead him into more trouble as Chris Cole, tormented by the ghost of his murdered wife, rejoins John on a mission to save the city of Glasgow - or kill everyone still living there.

Note: intended for mature readers.

---
<<< Back To Solicitations Index