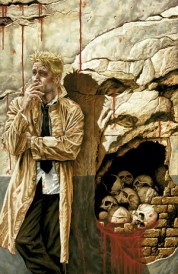 August 2006 Solicitations

Hellblazer #223

(Click cover image for larger version)

(W) Denise Mina
(A) Cristiano Cucina
(Cover) Lee Bermejo

"Mina's vivid slang and pervasive dread work wonders for grown-up comics." -Entertainment Weekly A stand-alone story from John Constantine's recent past finds him repaying a debt to a fellow magus who's dying - along with the city of London itself. The killer? A terror that at first seems supernatural in origin, but turns out to be all too realistic in this memorable story from the mind of Denise Mina, guest-illustrated by Cristiano Cucina.

Note: intended for mature readers.

---
<<< Back To Solicitations Index