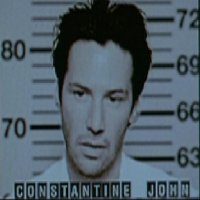 MOVIE DETAILS





Opens (US) : 18th February, 2005

Director : Francis Lawrence
Screen Play : Kevin Brodbin and Frank Cappello
Story : Kevin Brodbin
Producers : Lauren Shuler Donner, Benjamin Melniker, Michael Uslan, Akiva Goldsman, Erwin Stoff, Lorenzo di Bonaventura
Executive Producer : Gilbert Adler
Cast : Keanu Reeves (John Constantine)
Rachel Weisz (Angela Dodson/Isabel Dodson)
Shia LaBeouf (Chaz Chandler)
Djimon Hounsou (Papa Midnite)
Max Baker (Beeman)
Pruitt Taylor Vince (Father Hennessy)
Gavin McGregor Rossdale (Balthazar)
Tilda Swinton (Gabriel)
Jesse Ramirez (Scavenger)
Michelle Monaghan (Ellie)
Larry Cedar (Vermin Man)
Suzanne Whang (Mother)
Johanna Trias (Possessed Girl)
Nicholas Downs (Church Attendant)
Billy Million (Bar Boy)
C.W. Pyun (Korean man)
Andrei Sterling (Charly Temmel)
Peter Stormare (Satan)
JosÚ Z˙˝iga (Detective Xavier)

Current plot overview : John Constantine, an American magus recently diagnosed as having lung cancer, teams with Detective Sergeant Angela Dodson in the hunt for a serial killer who preys on psychics and magicians.


---

The IMDB entry for Constantine describes the film thusly - "Renegade occultist John Constantine (Reeves), who has literally been to hell and back, teams up with skeptical policewoman Katelin Dodson to solve the mysterious suicide of her twin sister. Their investigation takes them through the world of demons and angels that exists just beneath the landscape of contemporary Los Angeles. Based on the DC-Vertigo comic book Hellblazer."


---

Official Websites :

United States (Last Update : January 11th)
Germany (Last Update : January 7th, 2004)
Spain (Last Update : December 14th, 2004)
France (Last Update : December 14th, 2004)


---