Mad As A Hatter

Following the harrowing events of Newcastle, John Constantine was consigned to Ravenscar. Believed to be responsible for the death of Astra, he spent his time there at the merciless hands of the warders - many of whom had children of their own and even more of whom viewed Constantine as worse than the devil himself.

Most of the documentation pertaining to John's stay has long since disappeared but what little remains shows that despite his treatment there, John managed to hold onto whatever sanity he had.

Thatcher's Britain ensured that Constantine spent almost as much time out of Ravenscar as he did in during the course of his sentence. At one stage, a still clearly ill and somewhat disorientated John was left to wonder the streets of London. Here he met a strange woman that led to his having visions of the mad King Kon-sten-tyn.

Constantine's final departure from the less than hallowed halls of Ravenscar, some two years after his initial incarceration, was thanks to Harry Cooper. Harry, a famous gangland 'face' from London, wanted John to resurrect his recently dead son. Unable to bring the child back to life and fearing for the safety of both his sister and niece, a desperate Constantine actually ended up trapping a demonic 'Fuckpig' in the dead child's body.

After realising that he couldn't live without the parts of him that he'd used to create the Demon Constantine, John went on a spiritual trip of sorts. This trip included a return to Ravenscar and a final face to face confrontation with the man who had conspired to make his life there a living hell, Dalton-Brewer. It was here that Constantine learned that Brewer was on the verge of retirement and in no mood to relive past memories with the Englishman.

Timeline

1978 : John Contantine accidentally summons the demon Nergal in a bid to combat a terror elemental that haunts the Casanova club. Constantine's mistake confines young Astra Logue's soul to the hell and results in John being confined to the Ravenscar mental hospital.

1980 : Thanks to the efforts of East End crime boss Harry Cooper, John Constantine is released from Ravenscar. Harry, of course, had his own plans for the English magus.

Dates taken from Vertigo Secret Files : Hellblazer, written by Michael Bonner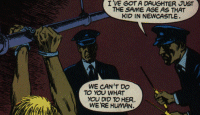 John left to the less than tender mercies of the Ravenscar staff.
Dr. Roger Huntoon explains why John has been confined to Ravenscar.
A less than enthusiastic Constantine is released from Ravenscar.